Baby Who Came to Dinner, The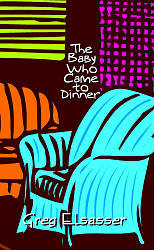 One-Acts

By: Greg Elsasser
Cast: 2 M, 2 F
Performance Time: Approximately 30 minutes, 33 pgs.


COMEDY. Gina is afraid to tell her nagging, overbearing mother, Doris, that she is pregnant, married to a teacher, and lives in a dumpy one-bedroom apartment. With her mother 3,000 miles away, Gina thinks her secrets are safe until she gets an unexpected call from Doris, who just happens to be in New York on business. Gina has only minutes to disguise her husband as a plumber and to hide her pregnancy before Doris arrives for dinner. But the anticipation of Doris' arrival is too much for Gina, and she starts to go into labor. And if that isn't enough, Doris arrives at Gina's apartment bearing more than Chinese food—she's brought along a prospective husband for Gina! This fast-paced comedy features plenty of one-liners, hilarious situations, and physical humor to showcase the comedic talents of your actors. NOTE: For a full evening, combine this play with another one-act from Greg Elsasser's Pelican Rapids Trilogy, a collection of plays that features delightfully wacky characters from Minnesota: Shoe Booties (30 mins), North of Pelican Rapids (30 mins).

Freeviews: To read play excerpts click here.
Please remember it is necessary to purchase one script for each cast member and one royalty for each performance.

Scripts: $6.95 each
Royalty: $60.00/performance
Prompt Book: $13.00
Poster Package: $50.00 (50/pkg)
Distribution Rights: $60.00
Artwork Rights: $50.00
Play Pack: $152.00 (7 scripts for cast/crew, 1 royalty, 50 posters, 1 prompt book)

Greg Elsasser was written several plays, many of which have been produced in community theatres, colleges, and high schools throughout the country. Mr. Elsasser teaches English and drama at Warren High School and resides in Downey, CA with his wife, Kristie, and two sons.