Have Yours-elf an Inventive Little Christmas

Holiday Plays

By: Lavinia Roberts
Cast: 2 M, 6 F, 16 flexible (With doubling: 2 M, 6 F, 14 flexible)
Performance Time: Approximately 45-60 minutes, 37 pgs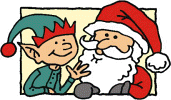 HOLIDAY COMEDY. Tinsel is an imaginative elf who spends all of her time creating "helpful" inventions for Santa's workshop. But there's just one problem: Tinsel's inventions tend to malfunction at the worst times. The Stocking-o-matic makes misshapen Christmas stockings. The Candy Cane-o-matic shoots candy canes at the elves. The Teddy Bear Generator assembles hideous teddy bears. The Gift Wrapping-o-matic wraps up the elves in paper, bows, and ribbons. The Straw Distributor shoots straw at the reindeer. And Santa's anti-gravity boots, designed to keep him from falling off of roofs, are so heavy he can't walk in them! Tired of Tinsel's menacing machines, the head elf orders that Tinsel's inventions be shut down, unplugged, and recycled. But when Jack Frost and the Snow Queen create the snowstorm of the century, it's up to Tinsel to save Christmas with her creative inventions. Perfect for all ages. Easy to stage.

Freeviews: To read play excerpts click here.
Please remember it is necessary to purchase one script for each cast member and one royalty for each performance.

Scripts: $7.95 each
Royalty: $60.00/performance
Prompt Book: $16.00
Poster Package: $50.00 (50/pkg)
Distribution Rights: $60.00
Artwork Rights: $50.00
Play Pack: $321.00 (27 scripts for cast/crew, 1 royalty, 50 posters, 1 prompt book)


Lavinia Roberts is an award-winning playwright and educator. She has a MA in Theatre Education from New York University. Ms. Roberts has been a theatre teacher for more than a decade. She is currently a theater instructor and a MFA-in-Playwriting candidate at Southern Illinois University at Carbondale.