Extra Ordinary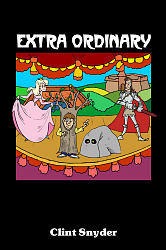 One-Acts 20

By: Clint Snyder
Cast: 1 M, 1 F, 21 flexible
Performance Time: Approximately 30 minutes, 26 pgs.


FARCE. In this play within a play, extras try to convince their director that just because they're extras doesn't mean they're not extra-ordinary. Tree 3 and Rock 2 try to upstage the Prince and Princess to prove to the director that they are the stars of the show even though they don't have any lines. When this fails, Tree 3 gets together with Trees 1, 2, 4, and 5 to improve their acting. Hearing that the Trees are trying to steal the show, Rock 2 gathers together his fellow Rocks so they can enhance their acting with the aid of a Pet Rock. But when the Trees leave dirt on the stage and the Rocks beat up the actor who plays A Giant Pair of Scissors, the director goes ballistic and replaces the entire cast with techies. Outrageously funny and easy to stage!

Freeviews: To read play excerpts click here.
Please remember it is necessary to purchase one script for each cast member and one royalty for each performance.

Scripts: $6.95 each
Royalty: $60.00/performance
Prompt Book: $13.00
Poster Package: $50.00 (50/pkg)
Distribution Rights: $60.00
Artwork Rights: $50.00
Play Pack: $284.00 (26 scripts for cast/crew, 1 royalty, 50 posters, 1 prompt book)

Clint Snyder has worked as a playwright, actor, director, and clown on and off the stage. He is a graduate with high honors from the University of Maine with degrees in Mass Communication and Theatre. A Chicago native, Mr. Snyder lives in Maine.