Sneezing With Your Eyes Open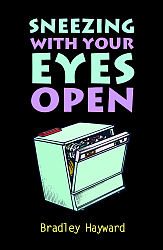 Collections

By: Bradley Hayward
Cast: 9 M, 4 F (With doubling 3 M, 1 F)
Performance Time: Approximately 50-60 minutes


COMEDY. This collection of 10-minute plays features five zany relationships. In "Cutlery," a wife and husband argue over how to place the knives in the dishwasher. In "The Sexual Conspiracy," Joshua wakes up one morning and discovers he is gay?even though everyone else has known for years, including his mother. In "The Yogurt Connection," a man and woman find love in the dairy section of a supermarket. "The Dead Body Play," features a love triangle that has gone very, very wrong. And in "Sneezing with Your Eyes Open," Zane discovers that he is actually a straight man posing as a gay man just to be trendy.

Freeviews: To read play excerpts click here.
Please remember it is necessary to purchase one script for each cast member and one royalty for each performance.

Scripts: $6.95 each
Royalty: $60.00/performance
Prompt Book: $13.00
Poster Package: $50.00 (50/pkg)
Distribution Rights: $60.00
Artwork Rights: $50.00
Play Pack: $179.00 (11 scripts for cast/crew, 1 royalty, 50 posters, 1 prompt book)

A native of Oxbow, Saskatchewan, Bradley Hayward has written more than 30 plays, some of which have been produced in more than 20 countries. Two of his short plays have been produced off Broadway, and several one-acts have been presented at thespian festivals across the United States and Canada. As a director of several high school productions, Mr. Hayward has worked with students on acting, playwriting and stagecraft. He lives in Los Angeles.