SOS at Richmond Theater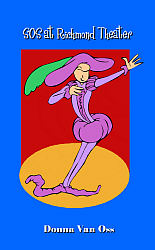 Full-Lengths

By: Donna Van Oss
Cast: 7 M, 7 F, 4 flexible, opt. extras (With doubling: 7 M, 7 F, 3 flexible)
Performance Time: Approximately 120 minutes, 97 pgs.


COMEDY. In order to save the Richmond Theater from being torn down, the summer production of Romeo and Juliet needs to be a huge financial success. A wacky, Diet Coke-addicted director who just produced a disco version of Moby Dick is hired to direct the production, which features a motley cast of high school actors. The director is certain that a modern Mardi Gras-inspired Romeo and Juliet set in New Orleans and complete with plenty of fur and feathers will ensure box office success. But when the needed theater supplies are either out of stock or get lost in the mail, the cast and crew are forced to use basic sets, props, and costumes and allow the beauty of Shakespeare's language to take center stage. This hilarious comedy is a fun way to introduce Romeo and Juliet to student actors.

Freeviews: To read play excerpts click here.

About the Story: To read more about the story click here.
Please remember it is necessary to purchase one script for each cast member and one royalty for each performance.

Scripts: $8.95 each
Royalty: $75.00/performance
Prompt Book: $16.00
Poster Package: $50.00 (50/pkg)
Distribution Rights: $75.00
Artwork Rights: $50.00
Play Pack: $309.00 (21 scripts for cast/crew, 1 royalty, 50 posters, 1 prompt book)


Donna Van Oss has taught high school drama for more than 10 years.  She has helped her students write and perform various works from full-length plays to short children's theater scripts.  She and her husband live in Baton Rouge, LA, with their two children Sam and Amelia.