Romeo and Juliet Out West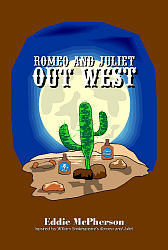 One-Acts 45

By: Eddie McPherson
Cast: 5 M, 4 F, 19 flexible, opt. extras (With doubling: 5 M, 4 F, 15 flexible)
Performance Time: Approximately 60-75 minutes, 62 pgs.


FARCE. The laughs never end in this wacky Wild West version of Romeo and Juliet. Romeo Earp crashes the Oakley's Harvest Festival, and it's love at first sight when he spies Juliet Oakley. The only problem is that the Oakleys and Earps are sworn enemies. How will Juliet tell her dad that she's fallen in love with a boy he hates worse than burnt cornbread and ward off Deputy Martin who already has his sights set on marrying up with her? To make matters worse, Romeo accidentally kills Juliet's cousin and is banished from Possum Trot. Still wantin' to marry her sweet, brave, murderin' Romeo, Juliet drinks from a bottle labeled "Almost Poison" despite Preacher Lawrence's advice: "If you find yourself in a hole, the first thing to do is stop diggin'."

Freeviews: To read play excerpts click here.
Please remember it is necessary to purchase one script for each cast member and one royalty for each performance.

Scripts: $7.95 each
Royalty: $60.00/performance
Prompt Book: $16.00
Poster Package: $50.00 (50/pkg)
Distribution Rights: $60.00
Artwork Rights: $50.00
Play Pack: $352.00 (31 scripts for cast/crew, 1 royalty, 50 posters, 1 prompt book)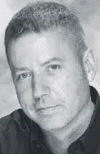 Playwright Eddie McPherson loves everything theatre. He has published more than 70 plays in the educational, community theatre, and Christian markets. He enjoys hiking in the mountains and spending time with his dad in the house he grew up in.